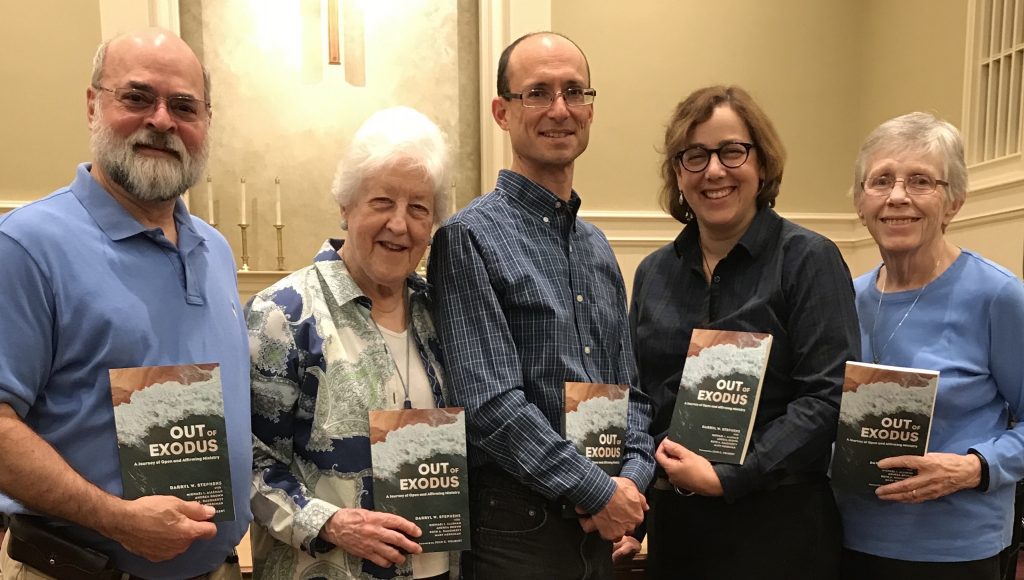 Out of Exodus: A Journey of Open and Affirming Ministry By Darryl W. Stephens, with Michael Alleman, Andrea Brown, Ruth Daugherty, and Mary Merriman. Cascade Imprints, 2018.
Many families, individuals, and congregations are struggling to discern God's will in these times of intense social change, particularly with regard to how to be in ministry with persons of diverse sexual orientations and gender identities. If you are seeking the guidance of the Holy Spirit, encouragement from fellow Christians, and spiritual nourishment for the journey, this book is for you.
Out of Exodus is an affirmation that we can be both biblical and progressive in our faith. The journey that brought Grandview United Methodist Church to a place of open and affirming ministry stands in parallel with the story of Exodus, the journey of the ancient Israelites learning what it means to be the people of God. Both communities experience plagues, trials, dangerous crossings, and wandering through the wilderness. And let there be no doubt: the Spirit is strong. God is still speaking.
This book is meant to help us learn to be the people of God in the social wilderness of today. In this book, you will find stories of faith. You will read personal testimonies about what it means to be homosexual and Christian. You will encounter sermons that wrestle with what it means to be open and affirming in ministry. You will read the bible as a story of faith in which we ourselves find a place. You may even experience charisms of the Holy Spirit, especially if you study this book in the company of other Christians seeking to find God in our midst.
Reviews
Review by Andy Dunning, Journal of the Society of Christian Ethics 40, no. 1 (Spring/Summer 2020): 179–180. https://doi.org/10.5840/jsce20204018.
Review by Deborah A. Appler, Reading Religion, March 5, 2021. https://readingreligion.org/books/out-exodus.
Review by Clare Herbert, Practical Theology 13:1-2 (2020): 192–194, DOI: 10.1080/1756073X.2020.1742431.
Endorsements
"In this book Darryl Stephens not only explains the relevancy of the Book of Exodus to the realities that many churches face as they become 'welcoming and affirming,' but he also inspires congregations that choose to take this journey through what can be a traumatic transition."
—Tony Campolo, Eastern University
"This is such an important work. In Out of Exodus, Dr. Stephens challenges our narrow notions of what the Bible teaches about our LGBTQIA+ family. He reminds us that we are all precious, anointed, and beloved children created in the image of the Divine. This book teaches us that we are all on the journey together and that we must stay in this struggle together, in the name of God."
—M. Garlinda Burton, United Methodist Deaconess and executive director of the Nashville Freedom School Partnership
"The biblical story of Exodus is one of movement: from Egypt to Sinai, from slavery under Pharaoh to relationship with God, and from degrading oppression to true freedom. This volume wonderfully works and unpacks these texts to show how we, ourselves, can move: from hardness of heart to compassion, from rigid ways of thinking to openness of heart and mind, from exclusion to invitation, . . . and eventually onward to respect and love. It should be on every Christian's bookshelf, both those who are working for full inclusion and those who are struggling along the way. A wonderful resource for the church!"
—Roy L. Heller, Associate Professor of Old Testament, Perkins School of Theology
"Out of Exodus is an engaging spiritual journey about Christians seeking to be in ministry with people of diverse sexual orientations and perspectives. Darryl Stephens, a person of deep faith and scholarly intellect, has written a book that includes Biblical groundings, pastoral reflections and personal stories. Discussion questions provided make the book especially useful as a congregational resource. As a pastor who has been engaged in this journey for over 40 years, I believe Out of Exodus will be a helpful tool for assisting churches in their desire to be in ministry with people of diverse sexual orientations."
—Jim Bankston, retired clergy, St. Paul's United Methodist Church, Houston, Texas
"Out of Exodus offers poignant insight into the various perspectives of those with whom we worship. These personal stories offer opportunities for the reader's self-reflection, and I would recommend this work to those wishing to explore issues of faith and inclusion within the congregation of believers."
—Michelle Daniels, Christ Servant Minister, The United Methodist Church
"In a time when entire denominations are threatening to split over human sexuality issues Darryl Stephens in Out of Exodus offers us the account of a refreshing journey taken by a congregation in south-central Pennsylvania to face challenging moral issues and find God's grace in the midst of faithful wrestling and societal ambiguity. Stephens grounds this journey in insightful Bible studies based on Israel's Exodus journey from bondage to hope. Pastors and laypersons in the congregation's leadership offer sermons and reflections on the journey. The hope of finding and preserving the church's unity in the face of moral ambiguity and uncertainty for many shines through the testimony of this volume. It should be an encouraging and helpful resource to many."
—Bruce C. Birch, Dean Emeritus of Wesley Theological Seminary and co-author of A Theological Introduction to the Old Testament
"It was so, so good for us!! The sharing was amazing. We are moving forward. The best part of studying Out of Exodus for us was how it solicited sharing. We felt safe and it opened up our hearts."
—Jonette Gay, pastor of Otterbein United Methodist Church, in response to their congregational study of Out of Exodus
"Combining scripture, sermons, dialogue and lived experiences, Out of Exodus is a phenomenal resource for any spiritual community interested in expanding their welcome to all Gods people—especially those interested in the Reconciling process."
—Reconciling Ministries Network
"What a refreshing perspective. A sort of victory as opposed to just an apologetic. Rather than pick apart 'the gay clobber passages,' Stephens views the journey through multiple lenses: the heart of God for bringing people out of captivity, the history of the church in that trek, the experiences of individual believers in their walk, and the position we can reasonably embrace in the light of that odyssey. I love the book. There are so many people I hope will read it!"
—Marsha Stevens-Pino, songwriter and author of For Those Tears I Died
"Out of Exodus is a unique book that allows the reader to journey with a congregation as it becomes open and affirming to LGBTQIA+ people. The book is structured around the Exodus story and provides sermons, reflections, testimonies, and quotes from clergy and members of the congregation. Readers learn how clergy and lay leaders helped to guide conversation and reflection, how members came to new conclusions, and how genuine engagement with scripture, tradition, reason, and experience led to spiritual growth. This book is valuable for congregations (there are study and reflection questions) and individuals who want to deeply and faithfully engage the Bible and affirm the LGBTQIA+ people in their communities."
—Rev. Marie Alford-Harkey, President and CEO, Religious Institute
Related Publications
Darryl W. Stephens, "A Charismatic Learning: Open and Affirming Ministry in a Methodist Congregation," International Journal of Practical Theology 22:2 (2018): 193–210. DOI: https://doi.org/10.1515/ijpt-2017-0014.
Darryl W. Stephens, "Who Bears the Burden of Our Ecclesiology? A Response to the Rev. Tim McClendon," United Methodist Insight, February 12, 2019.